Wyjątkowe wydawnictwo koncertowe Kiss! "Myślę, że fani rock'n'rolla na pewno docenią widowisko, które tylko Kiss są w stanie zagwarantować!" – mówi Paul Stanley z Kiss o "Kiss Rock Vegas". 
Nagrany w trakcie niedawnej 40th Anniversary World Tour występ w ramach rezydencji legendarnego zespołu Kiss w The Joint at Hard Rock Hotel and Casino dosłownie wstrząsnął Las Vegas. Kiss rozgrzali słynne miasto grzechu do czerwoności, wykonując swoje największe klasyki z całego przekroju swojej liczącej 44 albumy dyskografii, w tym m.in. "Rock And Roll All Night", "Detroit Rock City", "Shout It Out Loud", "Love Gun" i wiele innych. Wzbogacone ponadto zapierającą dech w piersiach oprawą pirotechniczną show, to jedyne w swoim rodzaju rock'n'rollowe przeżycie. Nic dziwnego, że zespół ma na swoim koncie aż 100 milionów sprzedanych płyt na całym świecie oraz niezmiennie lojalną armię fanów.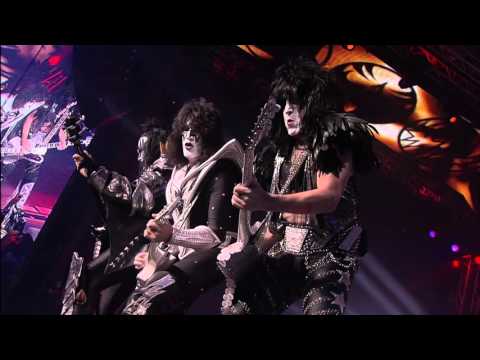 Wydawnictwo "KISS Rocks Vegas" jest dostępne aż w 5 formatach - DVD, Blu-ray, DVD+CD, DVD+2LP i Deluxe Edition. Edycja deluxe zawiera DVD, Blu-ray, dwie płyty CD, w tym jedną z akustycznym setem, a także 60-stronicową książeczkę. 
Tracklista:
CD
1) Detroit Rock City 2) Creatures Of The Night 3) Psycho Circus 4) Parasite 5) War Machine 6) Tears Are Falling 7) Deuce 8) Medley: Lick It Up/Won't Get Fooled Again/Lick It Up 9) I Love It Loud 10) Hell Or Hallelujah 11) God Of Thunder 12) Do You Love Me 13) Love Gun 14) Black Diamond 15) Shout It Out Load 16) Rock And Roll All Nite 
BONUS KISS ACOUSTIC CD IN DELUXE EDITION ONLY
1) Coming Home 2) Plaster Caster 3) Hard Luck Woman 4) Christine Sixteen 5) Goin' Blind 6) Love Her All I Can 7) Beth
DVD & BLU-RAY

1) Detroit Rock City 2) Creatures Of The Night 3) Psycho Circus 4) Parasite 5) War Machine 6) Tears Are Falling 7) Deuce 8) Medley: Lick It Up/Won't Get Fooled Again/Lick It Up 9) I Love It Loud 10) Hell Or Hallelujah 11) Guitar Solo 12) Bass Solo 13) God Of Thunder 14) Do You Love Me 15) Love Gun 16) Black Diamond 17) Shout It Out Load 18) Rock And Roll All Nite 19) God Gave Rock 'n' Roll To You II (End Credits)
2LP

SIDE A
1) Detroit Rock City 2) Creatures Of The Night 3) Psycho Circus 4) Parasite 5) War Machine
SIDE B
1) Tears Are Falling 2) Deuce 3) Medley: Lick It Up / Won't Get Fooled Again / Lick It Up 4) I Love It Loud
SIDE C
1) Hell Or Hallelujah 2) Guitar Solo 3) God Of Thunder 4) Do You Love Me 5) Love Gun
SIDE D
1) Black Diamond 2) Shout It Out Loud 3) Rock And Roll All Nite